Action Plan For Learning 2021 – 2022 Summary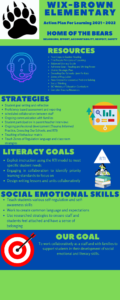 Click to enlarge image
Home of the Wix-Brown BEARS

Belonging Effort Accountability Respect Safety
School Context:
Wix-Brown is a diverse school with strong ties to the rural community. Open since 1961, Wix-Brown has a supportive and active Parent Advisory Council (PAC), volunteers, and a highly skilled and dedicated staff. Currently the school serves 180 students in grades K-7. This student population reflects the diversity of South Langley.
The school offers a safe, caring community to assist students in improving their friendships through inclusiveness, restorative action, and generosity; improving their learning focus through self-regulation strategies; and improving their academic achievement through differentiated instruction to meet the needs of a wide variety of learning styles. Wix-Brown integrates effective instructional pedagogy, strives for universal support, hands on learning and use of technology.
Inquiry Question
How can we connect as a staff and with families to better support students in their effort to develop essential reading and writing skills appropriate for their grade?