September 14, 2018
September 14, 2018
Happy Friday!
Our first two weeks have been great as students have reconnected with old friends and made some new ones too!  During the first week students worked in temporary homerooms and often had opportunities to work with various teachers. We were able to take what we learned about the students during this week to refine our class lists to ensure that each student was place in the class that would best meet their learning needs.
CLASS PLACEMENTS
On Monday we sent home the class placement slip that explained what teacher your child would remain with for the rest of the year. We spent many hours building classes with input from last year's teachers and others who have spent a great deal of time with your child.  We have taken into account many factors wh
en considering these placements, all of which we believe will provide the best possible learning and growth for your child. Please know that these decisions are not made lightly and are made with care.
As some of you are aware we are still in the process of hiring one grade two/three teacher and a four/five teacher.  This is the result of movement during the last week of August, and while we would have loved to have started the year fully staffed, we are confident a permanent teacher will be in place shortly.  Initially we were fortunate to have Ms. Deol, but she was hired at another school, in the meantime will continue to ensure we have a TTOC to provide the teaching in the 4/5 class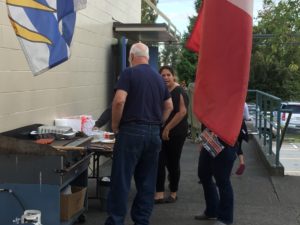 ; however, we still have Ms. Summers, a retired teacher, who is doing a great job of caring for our kids in our 2/3 class. Despite the difficulty with the hiring of staff we held our Meet the Teacher night. PAC was generous enough to provide a BBQ'd hotdog, while various families brought a dish to share. It was a great evening to meet and get to know each other!
Garden Towers
The Langley School District Foundation has generously donated two garden towers to our community. Imagine, if you can, a simple growing machine that reaps bushels of organic produce every six weeks. It requires no soil, no land, very little water, and virtually no maintenance. Forget weeding, insecticides
or contaminates. Don't worry about drought, extreme cold or any kind of climatic conditions.The towers are meant to grow gardens that will be producing vast quantities of lettuce, kale, herbs, spinach, tomatoes, peas, cucumbers, zucchini, strawberries, raspberries – perhaps even beets, carrots, potatoes and everything from yams to parsnips. The possibilities and potential are endless. Students learn to grow their own food. They taste it right from the vine and in so doing appreciate the nutritional benefits and inherent contributions to the environment. They develop a culture of sustainable consumerism and an appreciation for what nature provides. We are grateful to Ms. Chalmers and Ms. Sutherland who have agreed to help maintain the towers.
Wix-Brown Trades
New to Wix-Brown this year is the provision of elective type classes with a teacher from D. W. Poppy. Mr. Jackson will be coming to Wix-Brown and working with the grade seven students to complete various projects using tools and equipment they wouldn't normally have access to. The purpose of these classes is to get them used to the middle school model as much as our resources will allow. The electives will provide students with the opportunity to discover new interests. They may find that they are very good at a certain activity, begin to think about potential career paths, or maybe even develop a lifelong passion. We are super grateful for the support from the district in this endeavour!
School Theme #BKind
Our them
e for this year is Be Kind. Through out the school year we will be working on various ideas around kindness. Of course there are always random acts of kindness, but there are also kind responses, even if the person you are interacting with is struggling to demonstrate kindness in the moment. We have already started focusing students' attention to what kindness looks like in our community with brainstorming, writing activities and gentle reminders. All of these efforts will pay off in several ways: first kindness is proven to make us and others feel good, studies have demonstrated that the psychological benefits of kindness are actually reflected in the neural circuitry of the brain. When we allow ourselves to be kind, regularly engaging in random acts of kindness, we create neural pathways that enhance feelings of well-being and the natural flow of feel-good endorphins and mood elevating neurotransmitters. Secondly, a fascinating feature of kindness is that it appears to be self-replicating, inspiring kindness in others. Simply put, when we ourselves perform an act of kindness, this is likel
y to encourage others to act in a similar way. One study conducted by researchers at Cambridge University, the University of Plymouth and the University of California LA, found that seeing someone else help another person produced good feelings, which subsequently caused them to reach out and do something altruistic themselves. When we are kind, we help make our world a kinder place to live in. Finally, and most importantly, research shows that kindness actually does make you happier. All of these aspects of kindness will work to create a positive learning environment where our students can be their best possible person. (I would like to thank Ms. Jiwan Malcolm who created the #BKind and inspired the work that will take place throughout the year!)
Sensory Room
Although not finished as of yet, there has been progress in its completion.
We have had some very nice equipment added that will help students to calm and focus themselves so they can be better prepared for learning and interacting with others.
STUDENT ARRIVAL IN THE MORNING
Learning begins as soon as our day starts. The first bell is when the students are to begin entering the building, and the second bell signals the start of instruction and learning.  On time arrival allows for students to begin learning with their peers and also decreases anxiety.  When students arrive late, they often worry about joining activities midstream and how to transition.  Students are asked to check in at the office with Mrs. Dickson if they are late, this is to ensure safety and accurate attendance.  PLEASE REMEMBER TO PHONE THE SCHOOL OFFICE AT 604-534-5633 OR EMAIL MRS. Dickson at mdickson@sd35.bc.ca if your child is going to be absent.  This allows us to accurately mark attendance and to phone the parents of those students who are unaccounted for.
THIS YEAR'S STAFFING
We have welcomed some amazing new staff this year to the team, and we are excited for the learning opportunities they have planned for our students. We also welcome back many of our staff from last year and together they make a fantastic team.  I know they are looking forward to meeting you at our Meet the Teacher evening on September 13th.
Principal: Mrs. Rhonda Krisko
Admin Assistant: Mrs. Marlene Dickson
Division 1        Grade 6/ 7      Ms. Main
Division 2        Grade 5/6       Ms. Nast
Division 3        Grade 4/5       TBD
Division 4        Grade 3/4       Ms. Osborn
Division 5        Grade 2/3       TBD
Division 6        Grade 1/2       Ms. Senges
Division 7        Grade K/1       Ms. Chalmers
Division 8        Grade K          Ms. Sutherland/ Ms. Anderson
Resource:  Ms. Murray, Ms. LaRose, and Mr. Bruce
Counselling: Ms. Nordby
ELL:  Ms. Hastings
Learning Commons:  Ms. Peach
Music: Mr. Ablitt
P.E.– Mr. Bruce
Library Technician: TBD
Aboriginal Support Worker:   Ms. Miller
Speech and Language: Ms. Dawson
SEA's: Mr. Costello, Mr. Schmunk, Ms. Nolan, Ms. Mufford, Ms. Marshall, Ms. Holoboff, Ms. Olafson, Ms. Turnbull. Ms. Zillich
Youth Care Worker – Mrs. Johnson Mallari
DATES TO REMEMBER
September 18th – Anthony McLean Parent Presentation at D.W. Poppy (7PM)
September 20th – Green Thumb Theatre (1:30 – 2:30PM All Welcome)
September 21st – School Improvement Day (Early Dismissal 11:40AM)
September 27th – Terry Fox Run (More info to come)
September 28th – Orange Shirt Day
October 5th – Ministry Non-Instructional Day (students not in attendance)
October 8th – Thanksgiving (School Not in Session)
I am looking forward to working and learning in the Wix-Brown community. Please know that my door is always open!